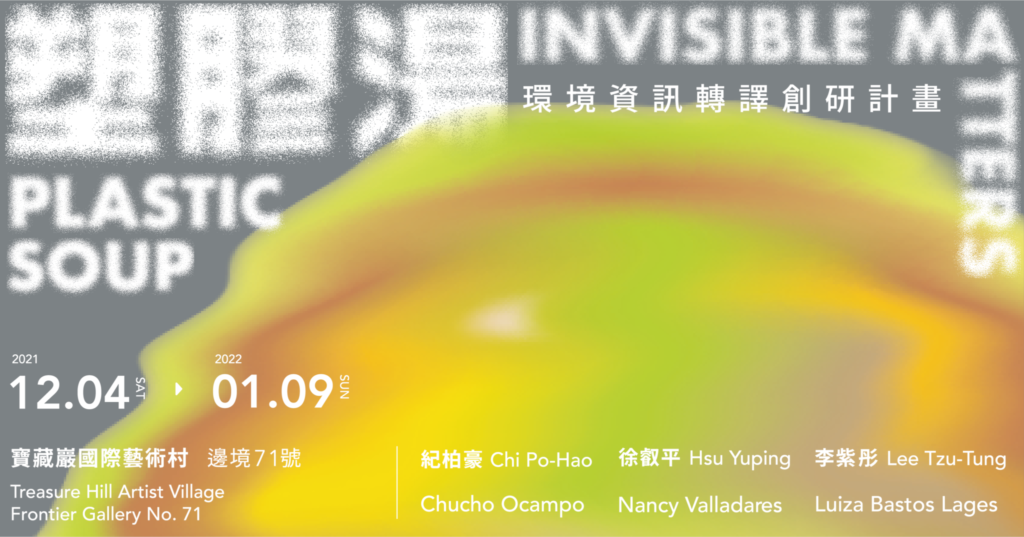 The overwhelming feeling of "climate change" represents a constant wavering- always somewhere between anxiety and helplessness. Or, as Donna Haraway has suggested, we now find ourselves caught in a state of "indecisive agitation"."
"Plastic Soup" is a research-based project organized by my studio Zone Sound Creative, partnered together with the multidisciplinary laboratory dériveLAB and culture space BEMA from Mexico to form an international collaboration. Artists from Taiwan and South America with backgrounds exploring the connections between art and technology were invited to respond to the notion of "Environmental Sensory" by drawing from the perspective of their own individual art practices.
After a year of exchange, remote collaboration has allowed artists from different cities to execute this project in unison. Those taking part have utilized modular components to connect open source environmental sensor networks, developed prototypes of the installation using digital fabrication technology, and have held regular and staged public events both in Taiwan and South America.
In Mexico, dériveLAB launched the ⊛ PIP Ciudad Futuro project, building a huge futuristic environmental monitoring structure in the city; the installations in Taiwan have been developed to adapt to local conditions, offering a series of devices that can be moved around the city.
In addition, they are reliant on the physical intervention of the audience as the operator to provide a reflection of the disturbances to the surrounding environment – sensing the visible/invisible layers in our daily life, and blurring the boundary between the audience and the artists. Selecting as its general theme the topic of civic science and art, the program plans to hold a forthcoming series of lectures and publish online features. An important aim here is to widen the process of interdisciplinary and cultural discussion between Taiwanese and South American artists and to promote dialogue and understanding between different fields. The findings of this project were presented at a series of online artists talks and workshops throughout November 2021 and the exhibition on view from 4th December 2021 to 9th January 2022, at Frontier Gallery No. 71, Treasure Hill Artists Village (Taiwan).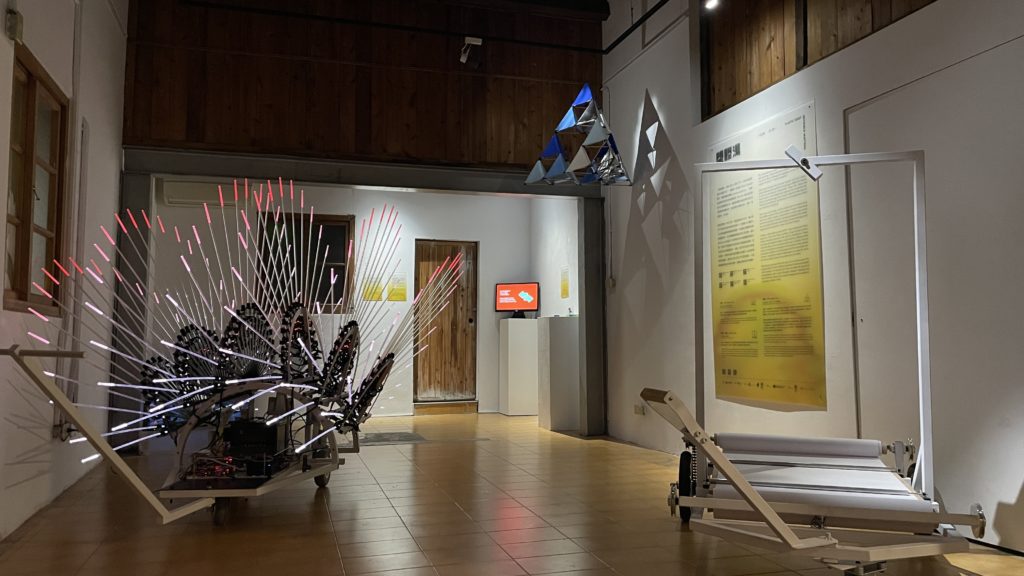 Interface 1: Halo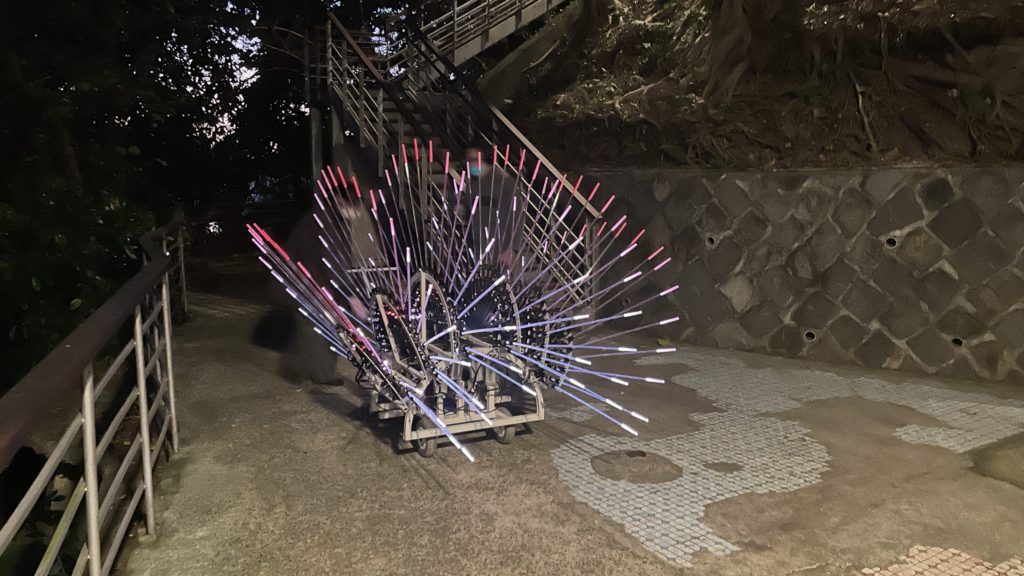 2021, Iron, acrylic, lighting, control system, sensor
The work reacts to light levels in its environment by lighting up and dimming down. When the device senses lights from various directions, the area which receives light will be dimmed and vice versa.
Interface 2: Trace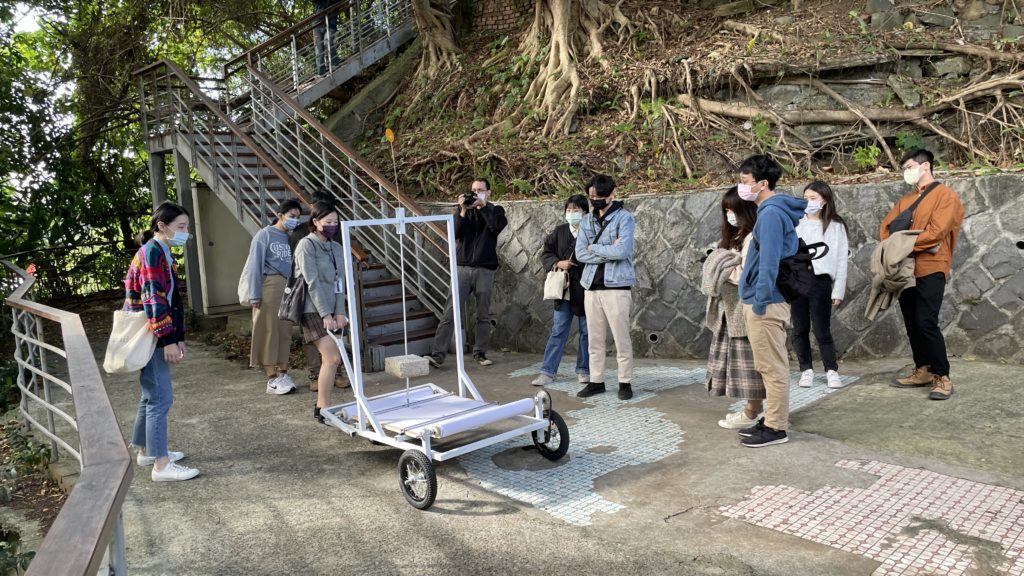 2021, Iron, transmission system、paper and cement
The work is a portable device that continuously documents the texture of the ground in an analog way. Traces are left on a reel of paper by a pendulum whose movements are caused due to external disturbances. These disturbances are the results of the choreography between the operator, the device, and the environment.
Interface 3: Flow (Prototype)
2021, Paper tubes, PLA, paper, and polyester string; Dimensions variable
The work is conceived as a floating device that responds to airflow. Its modular structure allows self-adjustment in scale and form according to weather conditions, wind speeds, and direction. Flow is constructed out of tetrahedrons. Triangular pyramids form larger tetrahedrons that, when repeated, form a fractal. These cellular tetrahedral kites are inspired by cell structures made by Alexander Graham Bell in the early days of aviation experimentation during the beginning of the 1900s.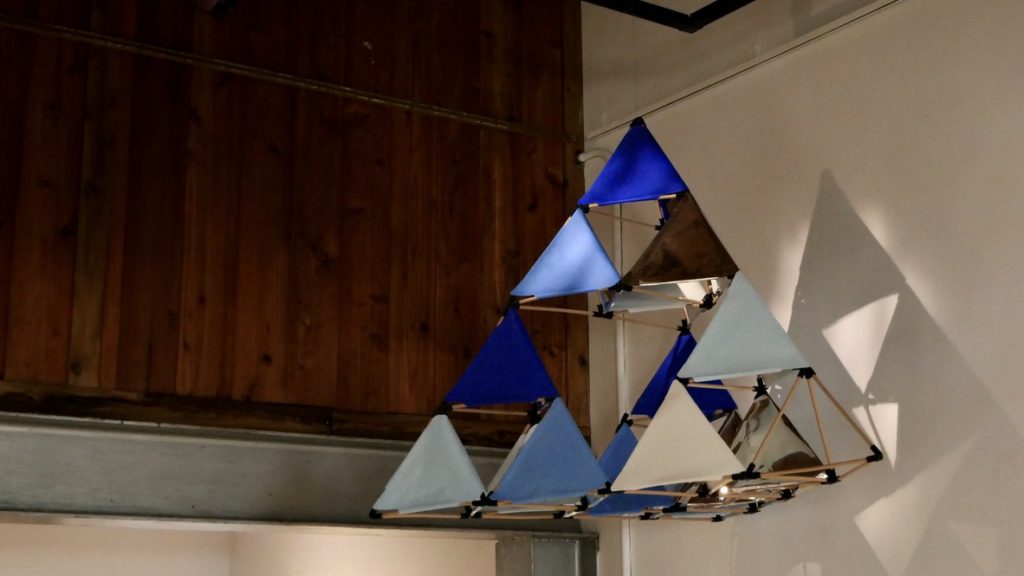 SmartCitizen Kit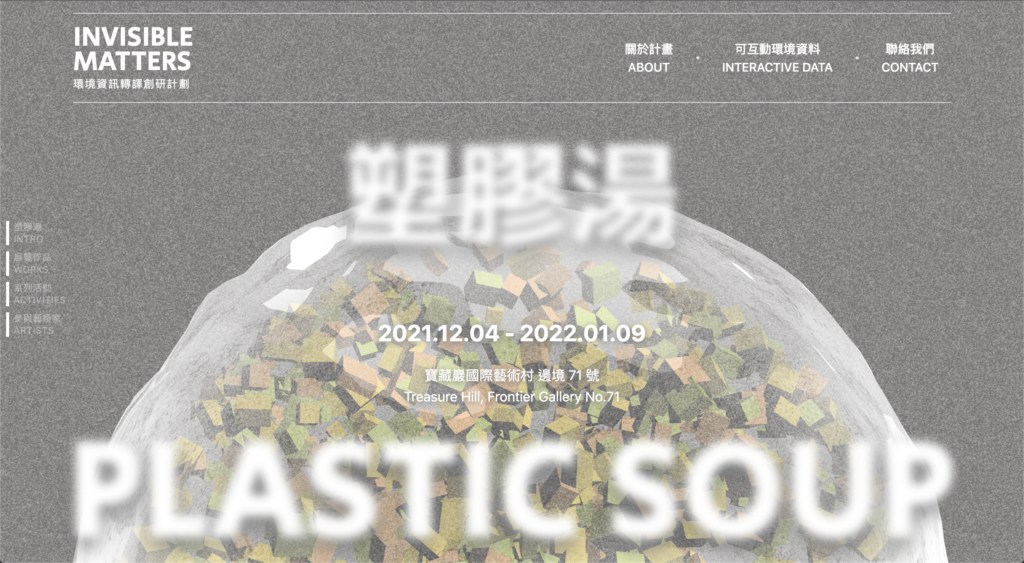 ---
Credits
Advisor|文化部 Ministry of Culture
Co-Organizers|deriveLab、BEMA、穀米機工 Okome Studio
Venue Supported by|寶藏巖國際藝術村 Treasure Hill Artists Village
Installation made by|穀米機工 Okome Studio
Key Visual| 洪紹元 Hong Shao Yuan 、蔡旻芳 Cora Tsai