Generative sound-image installation, 2016-2018
Lightscape focuses on the relationship between sensory experience and external structures within the city. Modern societies and communities maintain their order through quantization and standardization. Emily Thompson, historian of technology at Princeton, has written that within social landscapes, the city's influence far exceeds that of nature. Moreover, these landscapes are in a constant state of flux. Human-made noise and light are the inevitable byproducts of modern life. The daily movings and behaviors in the urban area shape our memories of the city. Different streets and routes, which are the elements that construct the collective consciousness, evoke the variety of urban life. People instinctively avoid the dark, and this use of public space, based on the presence or absence of light, affects cities' soundscape.
With sonification, I transformed the light flow into rhythmic and resonant elements. It references Henri Lefebvre's concept that investigates the explicit and embedded rhythm of individuals and the binary opposition of noise and music discussed in Jacques Attali's Noise: The Political Economy of Music, identifying the correlations between the density of artificial light sources and the acoustic level.
Lightscape has presented as the immersive installation, VR experience, remote performance, and interactive mobile program. Conceptually, by navigating through the city, users create their compositions.
---
Chromatic Nocturne 
Multichannel installation, LEDs, generative sound and images, 2016
Chromatic Nocturne is a multichannel, sound-light installation concerning the regulation and digitization of our daily lives. This generative audio-visual system transformed the orderly lights on the street into harmonious resonances. The light and the sound, masking each other, serve as the basis for visual and aural interaction as manifest in videos and installation. 
Laboral Center Official Event Page
---
Masquerade
360 video, generative sound and images
Masquerade is the VR version of the Lightscape project, shot at Times Square in New York with recorded visual impacts from massive numbers of screens, lights, advertisements, and moving crowds. The bustling lights in the panoramic video signified, masked, and emphasized the illusory of time, place, and social characters. This project focus on the complex intersection of sites, lights, and sounds which is represented in the urban 'sites' of visual cultures and associated discourse. One ought to reinterpret the causal relationship between the city's environment and its citizens. Simultaneously, there is a blurred distinction: to comprehend whether people are living in the city or have been surrounded, even consumed by the city.
---
Routine
3-channel video, 6-channel audio, 2016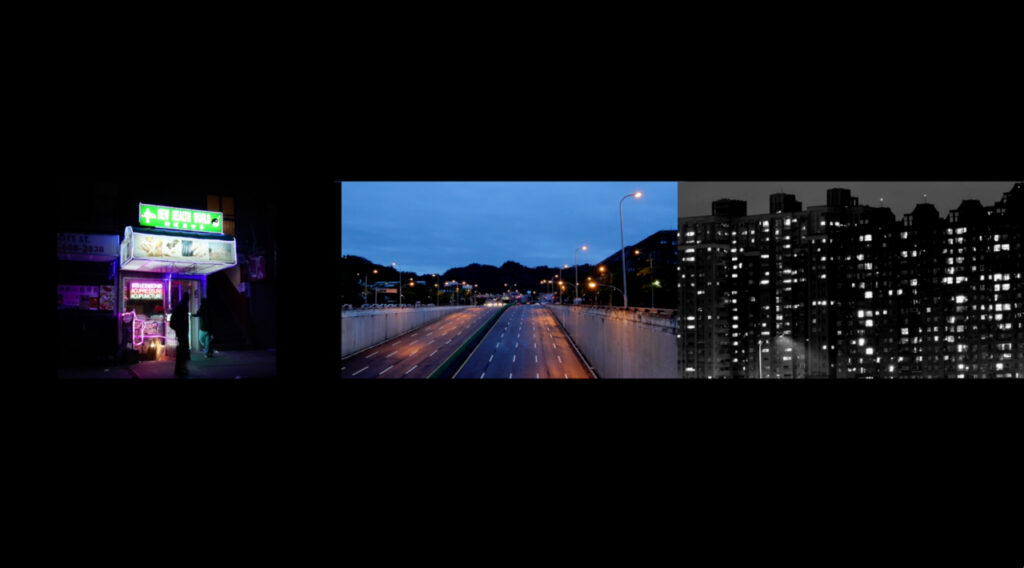 Three videos of Harmonising, Recurrence, and Sparkling are included in Routine, composing mainly of nighttime images of Taipei and some images from Spain.
---
Lightscape Taipei
Generative sound-images, projection, TVs, 2016